The following is a list of episode for the seventh season the  NBC-TV sitcom The Cosby Show. The series aired from September 20, 1984 to April 30, 1992 with 201 episodes produced spanning eight seasons.
Season
Episodes
Originally aired
DVD set release dates
Season premiere
Season finale
Region 1
Region 2
Region 4
1
24
September 20, 1984
May 9, 1985
August 2, 2005

January 21, 2014 (re-release)

May 19, 2008
October 4, 2006
2
25
September 26, 1985
May 15, 1986
March 7, 2006

January 21, 2014 (re-release)

August 25, 2008
February 7, 2007
3
25
September 25, 1986
May 7, 1987
June 5, 2007
October 13, 2008 
April 4, 2007
4
24
September 24, 1987
April 28, 1988
June 5, 2007
February 9, 2009
November 7, 2007
5
26
October 6, 1988
May 11, 1989
November 6, 2007
--
March 5, 2008
6
27
September 24, 1989
May 3, 1990
November 6, 2007
--
July 9, 2008
7
26
September 20, 1990
May 2, 1991
April 8, 2008
--
January 13, 2010
8
25
September 19, 1991
April 30, 1992
April 8, 2008
--
January 13, 2010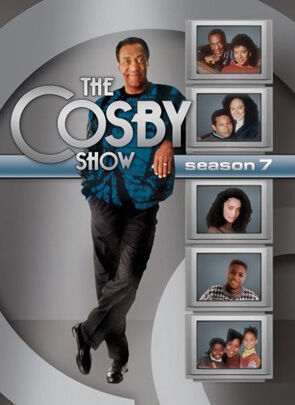 This season comprises 26 episodes
This season's credit sequence originally was to use a mural entitled "Street of Dreams," painted by inner-city youth from the Creative Arts Workshop in Harlem, for the opening credits. The producers wound up discarding the idea when their lawyers said that in order to use the mural they would have to get permission from all 63 young artists first. Instead, the show developed its own mural which combined some of the elements and used many of the colors of the actual one. The owners of the mural threatened to sue and denounced the show for ripping off the children. Carsey-Werner tried to negotiate a settlement with Creative Arts Workshop, but Bill Cosby decided to replace the theme with the season six's opening credits. Only four episodes featured the original opening credits, and only a few cities saw this version.[3] In all other areas in first-run and repeats as well as in syndication, only the replaced sequence was used. Lisa Bonet and Joseph C. Phillips were in the credits still but they only appeared in less than a handful of episodes during the season. New cast member Erika Alexander was featured in the original Season 7 sequence, but only her name and role is listed in the replacement sequence. The spoken phrase "This is the best elevator music I've ever heard!" was removed as well in the intro, except for one episode in 1991.
Throughout this season, Cosby was often seen wearing a small black button with the letters "SD Jr."—a tribute to Sammy Davis, Jr., who died in May 1990.
No. in

series

No. in

season

Title
Directed by
Written by
Original air date
Production

code

151
1
"Same Time Next Year"
Jay Sandrich
Ehrich Van Lowe
September 20, 1990
0701

Denise takes classes locally at Medgar Evers College, while Vanessa enrolls at Lincoln University in Pennsylvania. Rudy starts sixth grade. Olivia starts preschool.

Note: In a scene prior to the opening credits, Olivia enters Cliff's bedroom wearing a Bart Simpson mask. It is a nod to Fox's decision to move The Simpsons to Thursdays at 8:00 pm Eastern/Pacific, presenting The Cosby Show with its first true ratings challenge. This is the only episode in the series that has a "cold open". 

152
2
"Bird in the Hand"
Jay Sandrich
Steve Kline & Bryan Winter
September 27, 1990
0702
Cliff teaches Olivia jazz with "Pop Goes the Weasel", and tries to win a classic jazz record (including A Night in Tunisia) at an auction, over the phone, while filling in for Denise as volunteer parent at Olivia's preschool. 
153
3
"The Last Barbecue"
Ellen Falcon
Bernie Kukoff & Janet Leahy
October 4, 1990
0704
The Huxtable family erupts in a battle of the sexes after Theo suggests having a stripper at Martin's post-wedding bachelor party.Absent: Tempestt Bledsoe 
154
4
"Period of Adjustment"
Ellen Falcon
Gordon Gartrelle & Lore Kimbrough
October 11, 1990
0703

Clair's teenage second cousin moves in with the family.

Note: Erika Alexander joins the cast as Pam. This is the first appearances of Karen Malina White as Charmaine, Allen Payne as Lance, and Mushond Lee as Slide, Pam's friends. 

155
5
"It's All in the Game"
Neema Barnette
Janet Leahy & Bryan Winter
October 18, 1990
0706
After Vanessa gets into a minor car accident and tries to cover it up, Cliff and Clair complain about the various small disasters the children have caused them, and the children fight back by complaining about ways Cliff and Clair have embarrassed them. Meanwhile, Olivia accidentally breaks the washing machine. 
156
6
"Getting the Story"
Ellen Falcon
Lore Kimbrough & Janet Leahy

Story by:Mark St. Germain

October 25, 1990
0705
Rudy and Kenny do a video project for school on Clair hoping to see some action. However, they soon learn that the legal profession is not always an exciting action-packed career. They later choose to follow Cliff instead, and have an expectant father tape a birth, since hospital rules restrict them from being in the delivery room. Rudy and Kenny win 1st prize, and everyone involved is credited. 
157
7
"Just Thinking About It" (Part 1)
Jay Sandrich
Bernie Kukoff & Ehrich Van Lowe
November 1, 1990
0707
Under pressure from her boyfriend to become sexually active, Pam considers using birth control. 
158
8
"Just Thinking About It" (Part 2)
Jay Sandrich
Bernie Kukoff & Ehrich Van Lowe
November 1, 1990
0708
Pam and Slide argue over whether they should become sexually active. 
159
9
"The Infantry Has Landed (and They've Fallen Off the Roof)"
John Bowab
Gordon Gartrelle, Lore Kimbrough & Janet Leahy
November 8, 1990
0712
Rudy gets her first period. Clair plans "Women's day" where she goes out alone with Rudy and answers any questions she has, but Rudy refuses to talk after hearing old wive's tales about menstruation from her friends. 
160
10
"You Can Go Home Again"
Oz Scott
Lore Kimbrough, Steve Kline & Bernie Kukoff
November 15, 1990
0709
Seeking privacy, Denise and Martin decide to look for their own apartment, and find a cramped one-room apartment as one of the options. 
161
11
"It's a Boy"
Chuck Vinson
Bernie Kukoff & Ehrich Van Lowe
November 29, 1990
0710

The husband of one of Cliff's patients worries that he will be a poor father of a son because he has no athletic ability. After Pam breaks up with Slide, she and the class brain are attracted to each other.

Note: This is the first appearance of Seth Gilliam as Aaron. 

162
12
"Clair's Liberation"
John Bowab
Bernie Kukoff & Ehrich Van Lowe
December 6, 1990
0713

Clair enters menopause. She takes the news fine, but the kids treat her as if she's losing her mind, something Cliff and Clair sense, and plan an act where she is indeed suffering from classic menopause symptoms.

Note: This is the final episode in which Cockroach is mentioned. Absent: Keshia Knight Pulliam 

163
13
"It's Your Move"
Jay Sandrich
Steve Kline & Bryan Winter
December 13, 1990
0714

Elvin and Sondra help friends move, just as Elvin wants to wants to watch a very important football game.

Note: Voice over by Ahmad Rashād

164
14
"Theo's Final Final"
Neema Barnette
Elaine Arata
January 3, 1991
0715

Theo will make the dean's list if he gets an A on his final, but a beautiful exchange student planning to leave in 1-day for Barbados distracts him.

Note: Vanessa A. Williams appears (now portraying Cheryl). Guest appearances by Rachel True as Nicki and Michael Weatherly as Theo's roommate. 

165
15
"Attack of the Killer B's"
Art Dielhenn
Elaine Arata & Lore Kimbrough
January 10, 1991
0717
Pam's grades have improved, but she worries that she will not be able to afford college.

Absent: Sabrina Le Beauf, Geoffrey Owens, Joseph C. Phillips and Tempestt Bledsoe 

166
16
"Total Control"
Jay Sandrich
Bernie Kukoff & Ehrich Van Lowe
January 31, 1991
0718

Cliff's patient and her husband are convinced that they are prepared for every scenario... and then labor begins.

Note: Guest appearances by John Ritter and his future wife Amy Yasbeck. This is the first episode in which none of the Huxtable children appear. 

167
17
"Adventures in Babysitting"
Oz Scott
Steve Kline
February 7, 1991
0719

Rudy begs Martin to let her babysit Olivia, but they both become terrified after watching a horror movie. Cliff and Dr. Harmon enter a pinochle tournament as partners... and so do their wives. The wives win the tournament, hands down, much to the chagrin of Cliff and James.

Guest appearance: Bern Nadette Stanis

168
18
"27 and Still Cooking"
Neema Barnette
Gordon Gartrelle & Janet Leahy
February 14, 1991
0716
To celebrate his 27th wedding anniversary with Clair, Cliff attempts to recreate the Callaloo Pot, a Caribbean restaurant where the couple dined on their honeymoon, but Clair ends up getting serenaded by Cliff's hired musicians and dining on her own when Cliff gets sick. 
169
19
"The Return of the Clairettes"
Neema Barnette
Lisa Albert
February 21, 1991
0720
An old friend of Clair visits, along with her husband. Rudy prepares for her first date but it is cancelled when the other girls that were joining her can't make it. (Guest appearance by Leslie Uggams.Absent: Lisa Bonet and Joseph C. Phillips 
170
20
"No More Mr. Nice Guy"
Jay Sandrich
Steve Kline & Brayn Winter
February 28, 1991
0711
Theo's friend Denny thinks his girlfriend is cheating on him, but it is really a plan for Denny's surprise birthday party—but Ellen, Denny's girlfriend is in the house, trying to hide from everyone when she gets sick.

Absent: Tempestt Bledsoe, Keshia Knight Pulliam, and Erika Alexander 

171
21
"Home Remedies"
Jay Sandrich
Mark St. Germain
March 7, 1991
0722
When Olivia comes down with a cold, everyone (except Cliff) has a different home remedy to offer as a cure. Russell and Anna celebrate another wedding anniversary. Olivia lip-synchsKoko Taylor's "I'm a Woman". 
172
22
"Nightmare on Stigwood Avenue"
Carl Lauten &Malcolm-Jamal Warner
Lore Kimbrough & Steve Kline
March 21, 1991
0723
Rudy has a nightmare about Olivia always getting her way.

Absent: Lisa Bonet and Joseph C. Phillips 

173
23
"There's Still No Joy in Mudville"
Carl Lauten
Gordon Gartrelle & Matt Robinson
April 4, 1991
0721

Cliff goes bowling with his friends. Cricket vs. Baseball ensues when Cliff is forced to buy Chinese food for the others, since he scored the least.

Note: This is the final appearance of Sullivan Walker as Dr. James Harmon. Voice-over by Ahmad Rashād. Guest appearances by former Major League Baseball players Joe Black andFrank Robinson. 

174
24
"Cliff and Jake"
Jay Sandrich
Mark St. Germain
April 11, 1991
0626

Clair tries to prevent Cliff from buying a new appliance from his friend Jake. Cliff tries to settle a decade-old argument between a friend of Jake's when Jake's daughter and the other man's son become engaged.

Note: Guest appearances by Red Buttons and E. G. Marshall. Final appearance of Lisa Bonet as Denise. This episode was originally produced for season six. Absent: Sabrina LeBeauf, Geoffrey Owens, Joseph C. Phillips, and Erika Alexander 

175
25
"Theo and the Kids" (Part 1)
John Bowab
Bernie Kukoff & Ehrich Van Lowe
April 25, 1991
0724

Theo, who is majoring in pediatric psychology, begins an internship as a junior counselor at the community center; he soon suspects that one of the children there is dyslexic.

Note: This is the first appearance of Merlin Santana as Stanley and Eugene Byrd as Eugene. Guest appearance by Lynne Thigpen. This is the first and only two-part episode of The Cosby Show in which both parts of the episode premiered on separate nights and not back-to-back. Absent: Sabrina LeBeauf, Geoffrey Owens, Lisa Bonet, Joseph C. Phillips, and Erika Alexander 

176
26
"Theo and the Kids" (Part 2)
John Bowab
Bernie Kukoff & Ehrich Van Lowe
May 2, 1991
0725
Theo continues his attempts to help Stanley and the other children at the community center.

Absent: Sabrina LeBeauf, Geoffrey Owens, Lisa Bonet, Joseph C. Phillips, Tempestt Bledsoe, Keshia Knight Pulliam, and Erika Alexander 
Community content is available under
CC-BY-SA
unless otherwise noted.