The following is a list of episode for the second season the  NBC-TV sitcom The Cosby Show. The series aired from September 20, 1984 to April 30, 1992 with 201 episodes produced spanning eight seasons.
Season
Episodes
Originally aired
DVD set release dates
Season premiere
Season finale
Region 1
Region 2
Region 4
1
24
September 20, 1984
May 9, 1985
August 2, 2005
January 21, 2014 (re-release)
May 19, 2008
October 4, 2006
2
25
September 26, 1985
May 15, 1986
March 7, 2006
January 21, 2014 (re-release)
August 25, 2008
February 7, 2007
3
25
September 25, 1986
May 7, 1987
June 5, 2007
October 13, 2008 
April 4, 2007
4
24
September 24, 1987
April 28, 1988
June 5, 2007
February 9, 2009
November 7, 2007
5
26
October 6, 1988
May 11, 1989
November 6, 2007
--
March 5, 2008
6
27
September 24, 1989
May 3, 1990
November 6, 2007
--
July 9, 2008
7
26
September 20, 1990
May 2, 1991
April 8, 2008
--
January 13, 2010
8
25
September 19, 1991
April 30, 1992
April 8, 2008
--
January 13, 2010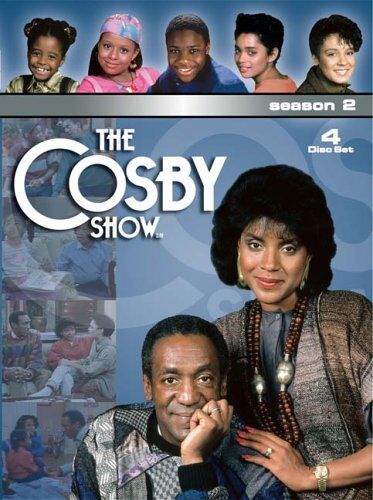 This season comprises 25 episodes
Bill Cosby, Phylicia Rashād, Lisa Bonet, Malcolm-Jamal Warner, Tempestt Bledsoe and Keshia Knight Pulliam appear in all episodes
Sabrina Le Beauf was absent for sixteen episodes.
For this season, the opening credits changed from the Huxtables in the park to a gray room with the cast dancing. The song was changed for the first time keeping the show's theme signature and featured a sort of jazz tone. Each cast member, in descending age of their characters, dances alongside Cosby as his/her name is shown in the credits. Bill Cosby is seen at the end of the credits "dancing" to the music as the production credits appear and at the end, he quickly turns his head and looks into the camera before the sequence fades to black. Two versions of this theme were also used. Much like the season one theme, both versions of season two's theme song were completely different in sound than the other. The long version featured more of a synth beat than the short. Midway through the season, following her marriage to NBC sportscaster Ahmad Rashād, Phylicia Ayers-Allen's name in the opening credits is changed to "Phylicia Rashād". Producer Caryn Sneider's (who also got married) credit was also changed to read "Produced by Caryn Sneider Mandabach."
No. in

series

No. in

season

Title
Directed by
Written by
Original air date
Production

code

25
1
"First Day of School"
Jay Sandrich
John Markus & Elliot Shoenman
September 26, 1985
0201
Cliff and Clair are overjoyed with the arrival of the new school year, as their children are finally out of the house.

Absent: Sabrina Le Beauf 

26
2
"The Juicer"
Jay Sandrich
Matt Williams
October 3, 1985
0204
Cliff, who has a penchant for electronic appliances, buys a juicer. Rudy and Peter, bored from Vanessa's inattentive babysitting, decide to use it even though they are not allowed to use appliances.

Absent: Sabrina LeBeauf 

27
3
"Happy Anniversary"
Jay Sandrich
Elliot Shoenman
October 10, 1985
0203

For Russell and Anna's 49th anniversary, the family commissions a portrait of the couple as newlyweds and offers them a cruise to Europe. Later in the evening, the whole family performsRay Charles' "Night Time Is the Right Time", with Theo, Rudy and Cliff each lip-synching a solo.

Note: In 1997, TV Guide ranked this episode number 54 on its '100 Greatest Episodes of All Time' list.[1]

28
4
"Cliff in Love"
Jay Sandrich
John Markus
October 17, 1985
0205

Sondra breaks up with her boyfriend Elvin and is depressed, taking it out on the family. Cliff and Clair aren't exactly unhappy; they find Elvin rather annoying. Later, he appears at the house with flowers and tries to apologize. While there, he offers some of his sexist rhetoric to Clair, who quickly becomes annoyed.

Note: This is the first appearance of Geoffrey Owens as Elvin. Joseph C. Phillips appears as Daryl (Phillips joins the cast in season 6 as Denise's new husband, Navy Lt. Martin Kendall). 

29
5
"Theo and the Older Woman"
Jay Sandrich
Carmen Finestra
October 24, 1985
0202

When friend Suzanne accompanies Denise to observe the Huxtables' normal behavior, a smitten Theo behaves far from normally.

Notes: Guest appearances by Robin Givens as Suzanne and Blair Underwood as Mark. Absent: Sabrina LeBeauf 

30
6
"Halloween"
Jay Sandrich
Elliot Shoenman
October 31, 1985
0206

Vanessa has a Halloween party. She has a crush on a boy named Robert Forman, but while daydreaming about her love, she drops an entire tray of glasses and embarrasses herself in front of the guests.

Note: This is the first appearance of Dondre Whitfield as Robert. Akili Prince as Scott. Absent: Sabrina LeBeauf 

31
7
"Rudy Suits Up"
Jay Sandrich
Gary Kott
November 7, 1985
0208
Rudy plays football and becomes a star, much to the chagrin of Clair, who worries that she will get hurt. But reluctance turns to excitement when Rudy is the star of her first game. 
32
8
"Denise Drives"
Jay Sandrich
Carmen Finestra
November 14, 1985
0207
Denise wants to buy a car, so she plans to use her savings to do so, but Cliff and Clair quickly point out flaws in her plan. The answer to everyone's problems comes from friend Mr. Lucas, who has an old car he is willing to sell. Denise proves herself a good driver, and the car is hers. David Langston Smyrl as Mr. Lucas.

Absent: Sabrina LeBeauf 

33
9
"Clair's Sister"
Jay Sandrich
Elliot Shoenman & John Markus
November 21, 1985
0209

Clair's sister Sarah gets engaged.

Note: This is the first appearance of Joe Williams as Clair's father Al Hanks. Guest appearance: Mario Van Peebles as Garvin Absent: Sabrina Le Beauf 

34
10
"Clair's Toe"
Jay Sandrich
Matt Williams
December 5, 1985
0211
While preparing to go out on a proposal anniversary dinner, Clair breaks her toe, but tries not to let it upset her routine. In the end, she develops a unique piece of footwear to hide her cast. 
35
11
"Denise's Friend"
Jay Sandrich
John Markus
December 12, 1985
0213

Denise asks Cliff to talk to her friend, who has a medical problem. Cliff diagnoses the girl as having a mild bladder infection, but learns that she was wary of telling her parents without certainty. Cliff and Clair decide to show the kids that they can tell them anything, but the children quickly point out that their parents will just get angry. Cliff admits that anger is part of problems, but tells the children that no matter what, they will be loved.

Note: Guest appearance by Stacey Dash as Michelle, Denise's friend. This episode won the 1986 Emmy for Outstanding Writing in a Comedy Series.[2]

36
12
"Mrs. Westlake"
Jay Sandrich
Elliot Shoenman
January 2, 1986
0210
Theo's math teacher comes for dinner, to Theo's extreme consternation. He thinks she plans to tell his parents of a bad grade on a math test. To his surprise, Mrs. Westlake (Sonia Braga) comes to dinner looking young, attractive, and even with a sense of humor; and she has a very good surprise! Mrs. Westlake also gives Theo his test-he actually gets an 89, and he proceeds to embrace her, much to his shock.

Absent: Sabrina Le Beauf 

37
13
"The Auction"
Jay Sandrich
Gary Kott
January 9, 1986
0214

Clair bids on a painting by her great-uncle that her grandmother had once owned. Attempting to win her favor, Elvin tries to bake her a cake, but fails miserably; he then gets advice from Cliff on how to pass himself off as a good cook.

Note: In real life, the painting used in the episode is Funeral Procession by Ellis Wilson. 

38
14
"Vanessa's Bad Grade"
Jay Sandrich
Ross Brown
January 16, 1986
0212

Vanessa steals a sweater from Denise. The two soon begin to fight. In the end, Rudy's choice of television viewing, the "I Have a Dream" speech, reminds the whole family of what a real problem is.

Notes: An excerpt from Martin Luther King, Jr.'s "I Have a Dream" speech is featured at the end of the episode—originally aired four days before the first observance of Martin Luther King, Jr. Day as a U.S. federal holiday. Absent: Sabrina LeBeauf 

39
15
"Theo and Cockroach"
Jay Sandrich
Thad Mumford
January 30, 1986
0215

Theo and his friend Cockroach scheme to pass a test on William Shakespeare's "Macbeth", which neither one has read. (This is the first appearance of Carl Anthony Payne II as Cockroach.)

Notes: Phylicia Ayers-Allen changes her professional name to Phylicia Rashād, after marrying NBC sportscaster Ahmad Rashād. Absent: Sabrina LeBeauf 

40
16
"The Dentist"
Jay Sandrich
Elliot Shoenman
February 6, 1986
0216

Peter goes to the dentist, but has Rudy come along for moral support so that Peter would not be afraid of the dentist.

Guest appearance: Danny Kaye (in one of his last appearances) as Dr. Burns, who is also Cliff's dentist Absent: Sabrina Le Beauf 

41
17
"Play It Again, Russell"
Jay Sandrich
John Markus
February 13, 1986
0217

The jazz group that Russell played with years ago reunites for a tribute show.

Guest appearances: jazz musicians Tito Puente, Art Blakey, Percy Heath, Jimmy Heath, Tommy Flanagan, Eric Gale, Joe Wilder, Carlos Valdes ("Patato"), Bootsie Barnes, and Jimmy Oliver. Slide Hampton provided the audio track for Russell's trombone solos. Absent: Sabrina Le Beauf 

42
18
"A Touch of Wonder"
Jay Sandrich
Mattt Williams
February 20, 1986
0218
After his limo collides with Denise's car, Stevie Wonder (appearing as himself) invites the Huxtables to a recording session. (Wonder performs "I Just Called to Say I Love You" with Clair and the family.) They are ecstatic at the encounter.

Absent: Sabrina Le Beauf 

43
19
"Full House"
Jay Sandrich
Gary Kott
February 27, 1986
0219
After an exhausting late shift at the hospital and a night's sleep, all Cliff wants is to read his paper in peace—but the children have taken over every room in the house. 
44
20
"Close to Home"
Jay Sandrich
Carmen Finestra
March 13, 1986
0220
A close friend of Cliff's, played by Samuel E. Wright, is overcome with sadness due to his daughter's recurring drug addiction. His feelings are set off as he observes the close relationship between Cliff, Clair, and Denise, who is his daughter's age.

Absent: Sabrina Le Beauf 

45
21
"An Early Spring"
Jay Sandrich
Matt Williams
March 20, 1986
0222
Theo's math teacher, Mrs. Westlake (Sonia Braga), has a baby and Cockroach (Carl Anthony Payne II) shows a different side.

Absent: Sabrina Le Beauf 

46
22
"Theo's Holiday"
Jay Sandrich
John Markus, Carmen Finestra, Matt Williams
April 3, 1986
0221

After Theo claims that he will have no problem making it in the "real world", the Huxtables convert their house in the "Real World Apartments" and teach him a lesson about the real world; i.e., needing employment and references to get an apartment, income to get a bank loan, having to pay for his meals, etc.

Note: Cliff wears a cap that says Magnum P.I., referencing The Cosby Show surpassing Magnum P.I as the number one show on Thursday nights, eventually becoming the number one show in prime time during the same season. Absent: Sabrina Le Beauf 

47
23
"The Card Game"
Jay Sandrich
Matt Robinson
April 10, 1986
0224

Cliff plays pinochle with his father, a former teacher, and a friend. Theo buys a cheap ring for his girlfriend Tanya. Absent: Sabrina LeBeauf

Guest appearance: Roscoe Lee Browne as Dr. Foster 

48
24
"Off to the Races"
Jay Sandrich
Matt Williams
May 8, 1986
0225

In a charity run, Cliff races at the Penn Relays with "Tailwind" Turner (Josh Culbreath) and—as apparent payback for the race a year prior—ends up having to run the final leg against Olympic gold medalist Valerie Brisco-Hooks.

Notes: Cameo appearance by Bill Cosby's real wife, Camille Cosby (uncredited). Portions were filmed at the Penn Relays, held in Philadelphia at the University of Pennsylvania's Franklin Field. Absent: Sabrina LeBeauf 

49
25
"Denise's Decision"
Jay Sandrich
Matt Robinson
May 15, 1986
0223
After much deliberation, Denise chooses the college that she will attend in the fall. 
Community content is available under
CC-BY-SA
unless otherwise noted.